Accommodation: Villa Adria Krimovica
Jaz, Montenegro
category
category
category
Number of views: 115251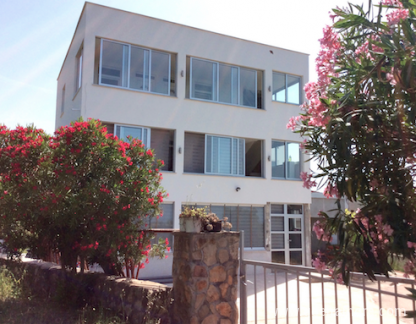 Contact Person:

Snezana & Svetlana & Vladimir & Tina Gvozdenovic

Address:

Krimovica bb

City: Jaz, Montenegro
Phone:

+38268028366 ,+381 65 9750 185

Cell Phone:

+38268330552
Contact owner
Show map
Apartment:
Room:
Studio:
Whole object
PLEASE SEND US YOUR INQUIRY OR CALL TO ONE OF THE TELEPHONES TO ASK ABOUT THE AVAILABILITY AND PRICES. THANK YOU!

Villa Adria is situated within 5 min of drive away from three of the most beautiful beaches in Montenegro (Trsteno, Jaz and Ploče), and just 10km away from Budva with its gorgeous old town and exciting night life. Villa is surrounded by lush Mediterranean greenery and enjoys beautiful views of the sea and the mountains. Situated 150m above the sea level, Villa Adria is ideal for those looking for clean air and who enjoy long walks in the nature. Not far from Villa Adria, there are many interesting touristic sights to explore. UNESCO protected area of the Bay of Kotor is just 30min of drive away. Towns of Kotor and Tivat with spectacular marina Porto Montenegro, are also just 30min of drive away.
Nearest airport is Tivat (25km), while Airports Podgorica and Dubrovnik are both situated at around 75km.
Considering it's excellent location, Krimovica is a great place to stay in, if you are interested in traveling around Montenegro, exploring its nature and history. For this reason, and because it will make their stay much comfortable, we recommend all our guests to either arrive by a car, or rent a vehicle while staying in Villa Adria.
We are happy to welcome you into one of our apartments any time of the year!
Legend:
All rooms, apparments
Some rooms, apartments
No
Capacity:

4 studio apartmana + 1 apartman

Seaview:
Water 24h:
Bathroom:
Kitchen:
Room service:
Safe box:
Large terrace:
Balcony:
Air conditioning:
TV:
Cable TV:
Internet:
Telephone in the room:
Parking:
Garage:
Pool:
Suitable for children:
Pets allowed
Suitable for disabled people:
Characteristics of accommodation
Legend:
All rooms, apparments
Some rooms, apartments
No
Capacity:

4 studio apartmana + 1 apartman

Seaview:
Water 24h:
Bathroom:
Kitchen:
Room service:
Safe box:
Large terrace:
Balcony:
Air conditioning:
TV:
Cable TV:
Internet:
Telephone in the room:
Parking:
Garage:
Pool:
Suitable for children:
Pets allowed
From the center:

10000 meters

From the beach:

1500 meters

From bus station:

5000 meters

From airport:

25000 meters
From ambulance:

10000 meters

From restaurant:

5000 meters

From sports fields:

5000 meters
Prices and payment options
Payment options:
Cache:
By bank transfer:
Credit cards:
In Pre-season

pozovite za informacije

In high-season

pozovite za informacije

In post-season:

pozovite za informacije

Out of season:

pozovite za informacije
Updated: 07/24/2021
Powered by GdeNaMore.com